[title size="2″]August to June[/title]

After 30 years of watching the public school open classroom where his wife taught, and admiring at a distance the model for learning that had evolved, Tom Valens couldn't miss the opportunity to film her last class from beginning to end. And so he was there the day school started and many a day thereafter: one man with a camera and a tripod, trying to stay out of the way as kids skipped from one activity to another, listening on headphones for what was happening in other parts of the building, and sometimes rushing, tripod in hand, only to arrive at the action just as it ended. Slowly but surely kids came into focus: their relations with each other, with their teacher, with learning. And that is what he captured. The film is not meant to suggest that there is one right way to teach, but showing how one unconventional classroom puts schoolwork inside a larger picture, may help bring into focus a broader vision of what education should and can be. Visit the filmmakers' website, and click to see the trailer.
[title size="2″]Buck[/title]

BUCK, a richly textured and visually stunning film, follows Brannaman from his abusive childhood to his phenomenally successful approach to horses.  A real-life "horse-whisperer", he eschews the violence of his upbringing and teaches people to communicate with their horses through leadership and sensitivity, not punishment.  Buck possesses near magical abilities as he dramatically transforms horses – and people – with his understanding, compassion and respect.  In this film, the animal-human relationship becomes a metaphor for facing the daily challenges of life.  A truly American story about an unsung hero, BUCK is about an ordinary man who has made an extraordinary life despite tremendous odds.  Click to see the trailer.
[title size="2″]Children Left Behind: A Documentary on High-stakes Testing[/title]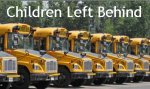 Most high school students in the United States are required to pass a series of exams in order to earn a high school diploma…  The film, Children Left Behind, is about the well-intended purposes that are driving this movement toward high stakes testing, and its unintended consequences.  Children Left Behind, brings to the forefront the stories of students who are struggling with high-stakes tests.  These compelling stories provide a springboard for the exploration of the educational, political and moral issues associated with these exams.  The overwhelming majority of these students are the intended beneficiaries of education reform.  They are students with disabilities, Latinos, African-Americans, English language learners, and students from economically impoverished communities.  Click to view the trailer, or learn more about the film.
[title size="2″]Go Public[/title]

GO PUBLIC: A Day in the Life of an American School Ditrict is a 90-minute documentary of one entire day in the Pasadena Unified School District. Pasadena is a racially and economically diverse community in Southern California with 28 public school campuses. GO PUBLIC tells the story of one full day from sun up to long after sundown…On May 8, 2012, fifty small camera crews followed a wide-ranging group of individuals who participate, attend, support and work in the School District. Teachers, students, principals, volunteers and many others revealed their unique involvement in what makes a public school district function. This film tells the story of public school at the moment things are happening. No voice-over narrative and no expert commentaries. By filming over one complete day, we had access to the struggles and resolutions that often occur many times in an average day. Through personal stories, GO PUBLIC is a film that articulates the experiences of navigating a typical day in public school.  View the trailer or see each of the 50 short films individually.
[title size="2″]Granito de Arena[/title]
For over 20 years, global economic forces have been dismantling public education in Mexico, but always in the constant shadow of popular resistance… Granito de Arena is the story of that resistance – the story of hundreds of thousands of public schoolteachers whose grassroots, non-violent movement took Mexico by surprise, and who have endured brutal repression in their 25-year struggle for social and economic justice in Mexico's public schools.  Completed in 2005, Granito de Arena provides context and background to the unprecedented popular uprising that exploded in Oaxaca, Mexico, in 2006.
[title size="2″]Growing Fairness[/title]
Growing Fairness is a short documentary film about "growing" restorative justice practices in public schools in New York City and Oakland, CA.  Often, passionate educators lead these cultural shifts in schools.  Growing Fairness examines the historical and political context for their resistance against the norm.  It also shares the voices of youth who have seized the opportunity to lead, transforming their schools and themselves in the process.
To see the whole film, click here.
For or more information about collaborative workshops, screenings, and resources, visit TeachersUnite.net
[title size="2″]Hear Our Teachers[/title]
H
ear Our Teachers, a documentary researched, written and directed by Laurie Gabriel, is being produced with the mission of uncovering and solving the real problems of public education in America. This venture is different from other education documentaries in that it fully explores the experience and expertise of our most overlooked resource: teachers. Through this platform, educators from all over the country can share their compelling (and strikingly similar) stories and solutions. Hear Our Teachers is an enlightening look into what's really going on behind school doors, as well as a collection of virtually cost-free answers to the education crisis–answers that are based on teachers' caring compassion for the children they serve.
To see the trailer, click here.
For or more information about the film, screenings, and resources, visit Hear Our Teachers.org
[title size="2″]An Inconvenient Truth About Waiting for Superman[/title]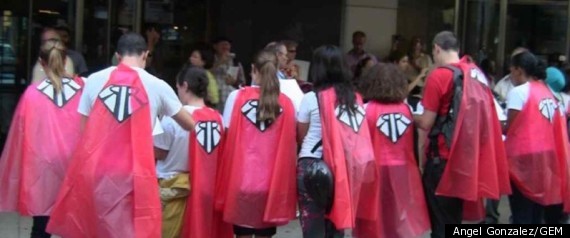 In 2011, the Grassroots Education Movement premiered a new documentary, written and directed by New York City public school teachers and parents, created in response to Davis Guggenheim's highly misleading film.  Waiting for "Superman" would have audiences believe that free-market competition, standardized tests, destroying teacher unions, and the proliferation of charter schools are just what this country needs to create great public schools.  The Inconvenient Truth Behind Waiting For "Superman" highlights the real-life experiences of public school parents, students and educators to show how these so-called reforms are actually hurting public education.  The film discusses the kinds of real reform – inside schools and in our society as a whole  – that we urgently need to genuinely transform education in this country.  Click to see the full film.
[title size="2″]LISTEN[/title]
Who is going to tell the story of public education?  Is it going to be the corporate-education reformers who haven't spent a day teaching, or is it going to be the students, teachers and parents who live the realities of these policies every day in the classroom?  To address this I took the spring semester of my freshman year of college off to make a documentary that shows the human side of the debate which, with the emphasis on test scores, is ignored.  LISTEN grew out of my own personal frustrations when I was in high school. I was always passionate about learning so I signed up for many Advanced Placement classes expecting them to be challenging college-level courses that would expand my critical thinking and creativity.  But what I got instead were classes that consisted of rote memorization and constant test preparation.  It angered me and eventually I just stopped studying and my grades dropped.  How come us students were never asked what we wanted from our own education?  Click to see the trailer, and learn more about the film.
[title size="2″]Mr. Holland's Opus[/title]
This Hollywood film depicts the story of a composer turned high school music teacher.  While this piece is significantly different than the others list in the SOS library, the story highlights many of the humanizing and often frustrating  themes that teachers confront in our public schools.
[title size="2″]Precious Knowledge[/title]
This 2011 political documentary centered on the banning of the Mexican American Studies Program in the Tucson Unified School District of Arizona.  It was directed by Ari Palos and produced by Eren Isabel McGinnis; both are founders of Dos Vatos Productions.  The film follows the lives of four students and several teachers in the Mexican American Studies program at Tucson High School.  The program was designed to retain Hispanic students, but despite the apparent success of the program, there was significant opposition in the community to the program.  The film follows the progression of local legislature put into place by the Arizona Department of Education Superintendent of Public Instruction Tom Horne in order to ban the Mexican American Studies programs in the Tucson Unified School District.  Click to see the trailer, and learn more about the ethnic studies program in Tucson, AZ.
[title size="2″]Race to Nowhere[/title]
Race to Nowhere is a film that calls us to challenge current thinking about how we prepare our children for success…Featuring the heartbreaking stories of students across the country who have been pushed to the brink by over-scheduling, over-testing and the relentless pressure to achieve, Race to Nowhere points to a silent epidemic in our schools.  Through the testimony of educators, parents and education experts, it reveals an education system in which cheating has become commonplace; students have become disengaged; stress-related illness, depression and burnout are rampant; and young people arrive at college and the workplace unprepared and uninspired.  Click to see the trailer, and learn more about the movement.
[title size="2″]STANDARDIZED[/title]
Be on the lookout for this new film in fall 2013.  STANDARDIZED – Lies, Money, & Civil Rights: How Testing is Ruining Public Education focuses on the proliferation, business, and inadequacies of state-mandated testing in our public schools.  It exposes the real story behind the standardized testing industry and its effects on public school children.  Are public schools abandoning the ideas of a comprehensive curriculum and producing well-rounded children in order to spend time teaching to the test?  Are the tests reliable?  What do they measure?  How are these tests created and evaluated?  Why is the general public allowing large corporations to make millions of dollars on their children?  In a no-holds barred fashion, Rockfish Productions will delve into the world of the Common Core and present a dynamic, thorough investigation of what might be the final stages of public education.  Click to see the trailer, and learn more about Rockfish Productions.
[title size="2″]Teach: Teachers are Talking, Is the Nation Listening?[/title]

This film features conversations about the art of teaching and learning by teachers themselves. TEACH brings an important perspective to the national education debate that is currently being dominated by a corporate led agenda to privatize education and blame teachers for everything that is wrong with education in this country. This movie takes on many questions about No Child Left Behind, high stakes testing, unequal distribution of education resources, and schools dominated by data driven curriculum instead of providing an education that is dynamic, creative, exciting, and joyful. As the filmmakers state in the movie, "Every day in the media we hear from the businesses, thinktankers, politicians, and administrators, this movie is about those who don't usually get heard." Click to see the trailer, and learn more about this film.
[title size="2″]A Touch of Greatness[/title]
You won't find ten-year old children reciting Shakespeare soliloquies, acting out the Cuban Missile Crisis or performing Sophocles plays in most American classrooms today. But Albert Cullum's elementary school students did all this and more…Regarded by academics as one of the most influential educators of the 1960s and '70s, Cullum championed what is, by today's standards, an unorthodox educational philosophy: the belief that the only way teachers can be successful with children is to speak directly to their hearts and to their instinctive and largely ignored capacity to quickly understand and identify with the great personalities, ideas and emotions found in classical literature. View the trailer and learn more about Mr. Albert Cullum.
[title size="2″]Women of Summer: the Bryn Mawr Summer School for Women Workers[/title]
This National Endowment for the Humanities documentary captures an historic moment when feminists, unionists, and educators came together to pursue a common social ideal.  The Women of Summer is their emotionally riveting and previously untold story.  From 1921 to 1938, seventeen hundred blue collar women participated in a controversial and inspired educational experiment know as The Bryn Mawr Summer School for Women Workers.  The program forever changed their lives and has left a legacy meriting public awareness.  Funded by such prominent capitalists as the Rockefellers, DuPonts, and Carnegies, the School introduced women workers of every race and nationality to the realm of humanistic and political thought, including Marxism and trade unionism. In the end, it was considered too radical by its funders and was discontinued, but not before it had exerted a profound influence on its faculty and students, producing union, community and government leaders.  Learn more about the film and The Bryn Mawr Summer School.
[title size="2″]You Got to Move: Stories of Change in the South[/title]
Acclaimed social activists and filmmakers Lucy Massie Phenix (Winter Soldier) and Veronica Selver (Word Is Out) present You Got to Move, a 1985 documentary that follows people from communities in the Southern United States in their various processes of becoming involved in social change.  The film's centerpiece is the Highlander Folk School, an 80-year-old center for education and social action that was somehow involved in each of the lives chronicled…You Got to Move follows the fights of several Highlander-educated citizens who sought to end injustice in their own communities.  The film captures the unwavering determination of each quietly heroic citizen, as well as moving shots of several peaceful, yet somber demonstrations and beautiful scenes of the Tennessee countryside.  Click to see the trailers.